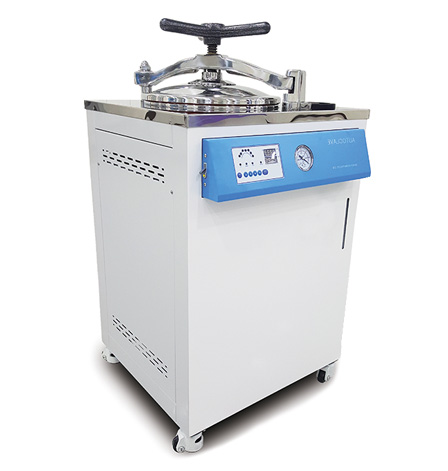 Safe and Reliable Autoclave
Autoclave BF-FW
without Worrying about Burnt Heater
Caused by Lack of Water
New Model


BF-FW45 / BF-FW60 / BF-FW80 / BF-FW100

Standard Model


BF-AC45 / BF-AC60 / BF-AC80 / BF-AC100
1
Automated Cycle Sterilization
Removal of primary residual air → automatic water refilling if not having enough water → heating → sterilization → exhaust
Upon reaching a temperature of 121℃, the timer automatically operates.
Sterilization is activated during the setting time.
2
The Durability for Semipermanent Use
The inner chamber, door and door accessories are made of stainless steel for durable use.
Optionally applied for various colors of outer chamber consisting of SS41 steel plate
Prevention system to control overheating (by 1st and 2nd step) and over-pressure(by 1st, 2nd and 3rd step)
Easy control of temperature, timer, setting and automatic tuning by using the PID controller providing easy operation
and high efficiency in operation
Automatic water supply from internal water storage by the level sensor.
Compact and convenient external case comparing to the existing products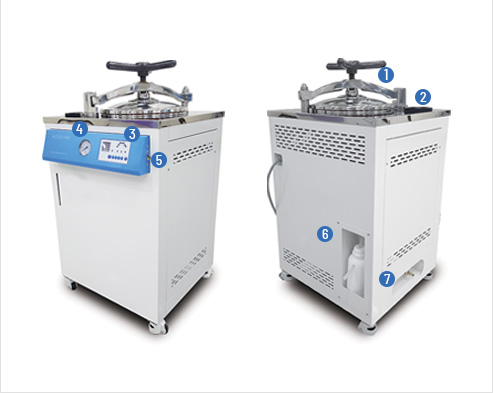 Installed a solid frame door with silicone packing attached
to prevent steam leakage caused by operation pressure
3
Control Panel and Pressure Gauge
Setting temperature, timer, reservation and auto-tuning function
Identifying pressure status through the pressure gauge
Discharging steam through the steam outlet
since sterilization's completion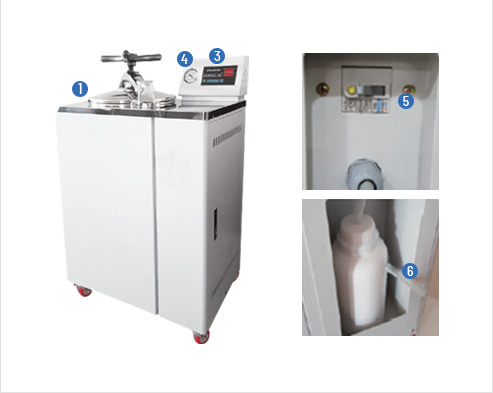 Protecting the autoclave heater by using the
internal water storage
Switching on/off the main power
Circuit breaking against current leakage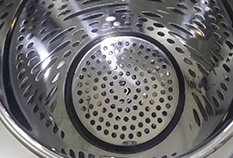 Stainless Heater Cover (1pc)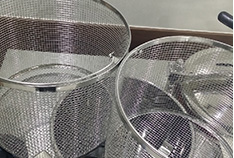 Stainless Wire Baskets (2pcs)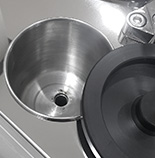 Water Inlet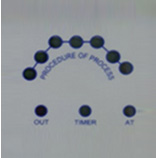 The Procedure of Process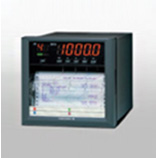 Operation Recorder (Option)
Have you ever experienced heater burned black
due to lack of water when using an autoclave?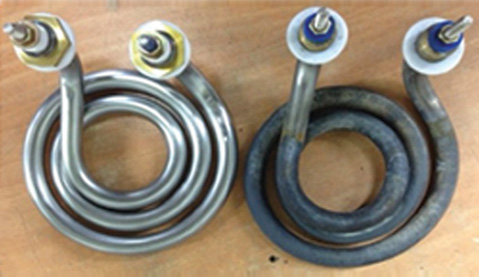 BNFKOREA Autoclave BF-FW model is featuring the prevention system
not allowing heater being burned caused by lack of water in the chamber.
In case of lack water in an autoclave, the water to do safe operation is
automatically supplied from internal water storage container.
If the container is even lack of water, the autoclave is stopped to operate
by a level sensor, which is completely preventing the heater
damage for safety.
MODEL
BF-FW45
BF-FW60
BF-FW80
BF-FW100
BF-AC45
BF-AC60
BF-AC80
BF-AC100
Type
Full automatic type
Chamber Type
Round vertical type
Capacity
45 L
62 L
81 L
103 L
45 L
62 L
81 L
103 L
Internal Size
(ØxH) m/m
300 x 650
350 x 650
400 x 650
450 x 650
300 x 650
350 x 650
400 x 650
450 x 650
External Size
(WxDxH) m/m
680 x 480 x 1070
(Appr.)
680 x 480 x 1070
(Appr.)
790 x 590 x 1070
(Appr.)
790 x 590 x 1070
(Appr.)
680 x 480 x 1070
(Appr.)
680 x 590 x 1070
(Appr.)
790 x 590 x 1070
(Appr.)
790 x 590 x 1070
(Appr.)
Heater Capacity
2kw
3kw
4kw
4kw
2kw
3kw
4kw
4kw
Temp. Range
Ambient temp. to 130℃
Temp. Controller
LED microprocessor programmable control
Time Range
99 Hours/59 Minutes digital display
Temp. Sensor
Pt-100(for sterilization use)Ω, auto tuning
Accuracy
± 0.5℃
Inner Material
/ Outer Material
Stainless steel
/ SS41 steel plate and powder coating
Door System (Out)
One touch handle type(single screw door)
Basket
Stainless steel (#304) produced for sterilization use 2ea
Pressure Range
0~3kg/cm² (analog indicating)
Using Pressure
0~1.2kg/cm²
Wheel
Silicon carrier wheel being screwed to frame
Electronic Power
AC 220C, 50/60Hz single-phase
Safety Device
Safety pressure valve, over temp. controller
N.F.B buzzer, switch Etc.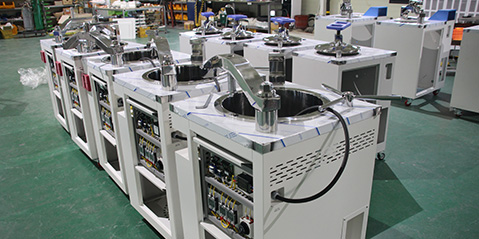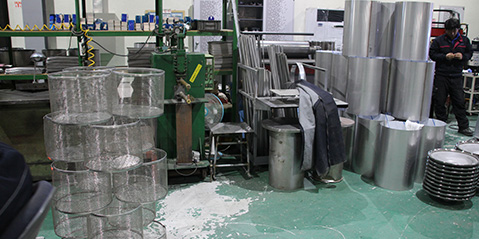 This post is also available in: Thailand

BNFKOREA Head Office
BNFKOREA CO., LTD. #26, Daeposandan 1-ro, Yangchon-eup, Gimpo-si, Gyeonggi-do,
Republic of Korea

Tel:+82 2-2666-4445
Fax:+82 2-2666-0440
E-mail:26664445@hanmail.net
CONTACT INFO
Tel:+1 562-833-6622
Fax:+1 562-278-0144
E-mail:bnfkorea1515@naver.com
afmstl@gmail.com (USA office)